This article reviews my latest role as Lead AV Development for the grounds of Festival Forte. Montemor-O-Velho. Portugal. Aug 2016
The creation of three new public works for the Festival Forte environent, utilising creative code, GLSL fragment shaders, projection mapping, video synthesis and 3D form fabrication.
Late summer nights 25th – 29th August I took to the role of lead AudioVisual Development for Festival Forte an international Electronic Art and Techno Music festival held within the saw-toothed, stone embattlements of Castelo de Montemor-O-Velho, Portugal, a centuries-old fort predating the founding of Portugal.
Initial site visits and discussions with the festival organiser and local community helped me to settle on three locations: The castle gardens, the castle courtyard and church. Mapping three points of generative activity within the festival grounds for the tired crowds to relax within, take in the scene and catch a breather some distance away from the booming techno acts playing live on stage.
A personal highlight was developing work for the Santa Maria De Alcacova church. Every evening the crowds would drift towards the green light emanating from the church enclave, inside a pixel perfect mapped structure, visible from the gates a slow, undulating, generative video synthesis, reminiscent of early video engineer Nam June Paik, illuminating the arched screen towering four metres above and suspended two feet from the floor between slender spiral pillars.
A short walk away in the castle courtyard, I took to the task of mapping twenty large, square paving stones and illuminating these through a random generative sequence, made possible through code and the abstract and complex universe of Fragment Shaders, mapped by an overhead strobe rigged to a metal frame.
As happens so often when making for public interaction, the work soon realised itself as a generative, interactive dance floor; a reworking of those initial coded experiments by John Conway back in the 1960s, the subject of Artificial Life. A-Life for millennial's, after hours entertainment fuelled by a raw sense of fun and acute acid contortions. One 20-something guy in a red T-shirt tested a paving stone with one foot, as if checking for boobytraps, while others danced from stone to stone in an attempt to keep up with the lights.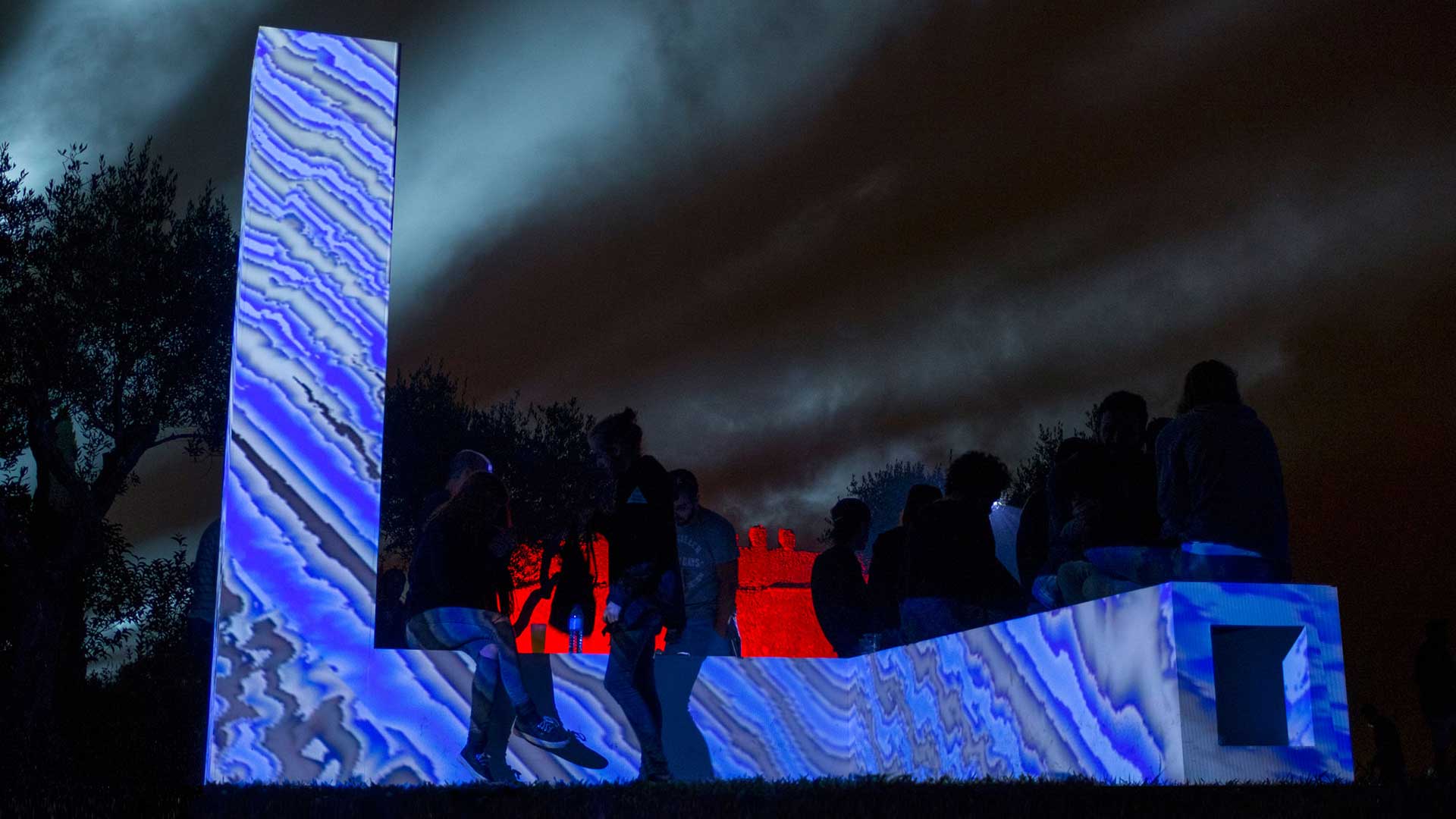 Situated in the castle gardens with a panorama across the entire Montemor-O-Velho valley, I erected a towering four metre cubed, L- shaped, white monolith, mapped structure. Throughout the night this became a haven for phased out folk, surrounded at times by a few dozen revellers, exploring its minimal form as a place to rest, absorbed within the rich, analogue video synthesis projected on its shape from all sides, punctuating the horizon line from dusk till dawn with a digital, other-worldliness.
At around 8pm on Sunday before Michael Mayer played the defining closing act, I watched the sunset with around 40 others, facing westward as the last vestige of light sank into the distance. The installations had been switched off, the festival was winding down, but the party still going strong.
Festival Forte has conquered me since its first edition, the acts and the quality of the performances, the special care and integration of audio visual interactives and festival artworks. The vibe that only a small festival can offer, is perhaps the closest you can get to that original spirit that led someone one day to thinking about joining thousands of people in one place, to listen to and dance to music and celebrate coming together, creating a half utopia around a half dozen days.
Next year I recommend you all be there to open your ears to new sounds and escape from the boredom of the real world. See you there!
Written by Jaygo Bloom / Sept 13  2016 on Linkedin
THE FOUR ELEMENTS OF NATURE
In 2016 the gardens, chapel and glasshouse of Montemor-O-Velho fortress became a digital playground, featuring generative art, implemented in code and celebrating the transformation of the landscape through immersive, algorithmic genius.
Generative art guided by dimensional restriction and random visual intervals lay the foundation for this years Festival Forte Identity, to compliment this the festival organisers hand over the keys of the fortress to an incredible line up of international stars, committed to pushing at the boundaries of audio and visual coded creativity in unforgettable ways.
Our Generative Art concept started with the idea of 'coming together' of convergence of art forms, of people and the festivals beautiful surroundings. By following a simple and clear identification of this concept, we arrived at the decision to follow the four classical elements of nature: Earth, Wind, Fire and Water. These four elemental systems have been coded to create separate web identities defined by two extremes: night and day/light and shadow, following a digital premise: Recursive Generative Art based on algorithmic transformational code. This premise is also what drives the digital artworks and installations situated around the festival site, each one dynamically changing, generative, autonomous and fertile for exploring the multitude of algorithmic beauty.
Throughout the three days expect to be surprised and embraced in a fluctuating, changing landscape of experimental dynamics, where art forms come together in rare and abundant, creative dialogue, with mesmerising acts and installations setting the trend for a new movement in digital communication.
" The beauty of a living thing is not the atoms that go into it, but the way those atoms are put together."
Carl Sagan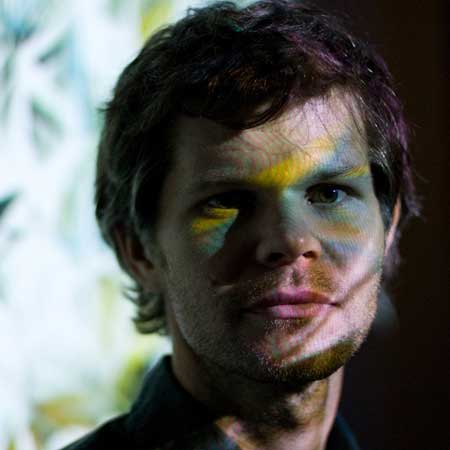 Casey REAS (a k a Casey Edwin Barker Reas, C. E. B. Reas) is a Software artist whose stunning new work explores the manipulation of audio video content within a generative sequence to a near infinite array of possibilities. Reas' software, prints, and installations have been featured in over one hundred solo and group exhibitions at museums and galleries in the United States, Europe, and Asia.
Reas is a professor at the University of California, Los Angeles. He holds a masters degree from the Massachusetts Institute of Technology in Media Arts and Sciences as well as a bachelors degree from the School of Design, Architecture, Art, and Planning at the University of Cincinnati. With Ben Fry, Reas initiated Processing in 2001. Processing is an open source programming language and environment for the visual arts.
Caseys practice is at the forefront of emerging technology, and his installations exclusive to Festival Forte, are testament to his incredible talent and the powerful potential behind coded artworks.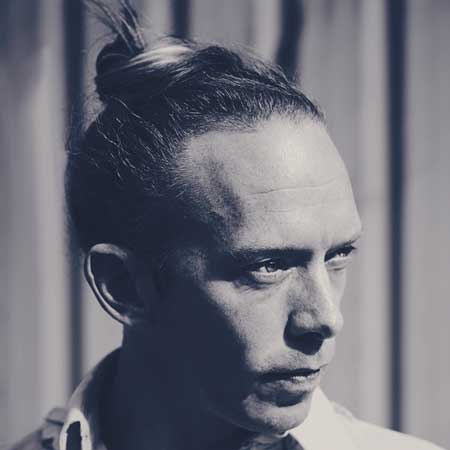 Jaygo Bloom is best known for his large-scale projection mappings and as the visual performer for the seminal British Techno act 'Planetary Assault Systems'.
Jaygo Bloom is an artist, designer, lecturer, early career researcher and performer. His works for galleries, public commissions and the creative design industries often address with irritating awareness the reality we live in, and make explicit the technologies that paradoxically predominate the human condition, examining the effects this has on our collective, personal and spiritual growth.
For Festival Forte Jaygo has produced a series of  immersive installations, creating three-dimensional light structures which invite you to explore and interact with generative processes that blur the boundaries of the physical and the virtual.
Festival Forte is an electronic art and music festival dedicated to showcasing restless, digital natives who refuse to be pinned down and who excite us with their epic algorhythmic proportions, within Portugal and beyond